"We don't call it Legendary."
Alien Parts are parts in Bad piggies that are very unique and special. The sounds for almost all of the alien parts are different. All alien parts are gained after unlocking all of the normal parts in the game, not including the easter egg ones. Unlike most of the other parts, they all have an extra feature or boost. There are 15 in total.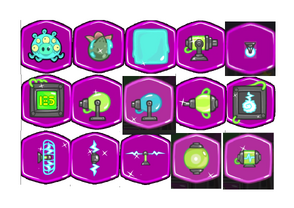 The Alien Parts all emit small green or blue particles. They can also appear on the title screen, functioning the same. When an alien part is collected from the machine, a different sound effect is heard. A similar sound will also be heard when equipping one. When the final normal part is collected, it will play the alien part collected sound. This is likely a bug. The Scrap Machine will undergo a transformation and then only accept 3000 scrap to unlock 1 alien part. Unlike its previous version, the machine will also show the silhouette of the next part that will be obtained. This can't be changed or chosen. They can't be obtained from crates.
In the current loading screen, among other new parts, the alien engine can be seen flying, attached to a normal propeller. In previous versions, it was a normal electric engine.There is a video of this down below.
https://www.youtube.com/watch?v=CKFjrHJwWdw
Trivia
When all alien parts are collected, the machine will display a gold check mark.
A green box with the art style of the alien parts appears in the game files. It doesn't appear in-game, but it may have been intended to be an alien variant for wood at some point. It probably wouldn't have low friction like the ice block, it appears more like a window.

The pulse sound effect played by the engine is similar to a heartbeat, like the pulse reading on the item.
The symbols on the alien TNT appear written on stones in The Road to El Porkado. HMM.
When the alien pig is equipped, it plays the normal sound and one of Ross' sound effects, but distorted.  When used, the pig sounds the same, though.  It might have been the alien pig's intended voice but it was cut short due to time.
The electric engine used to be a 3 star part
when the alien part is given from the scrap machine, it makes a noise. it also gives a LOT of xp.
If you use the electric engine and a non alien helicopter rotor, it will ALWAYS fly off
Community content is available under
CC-BY-SA
unless otherwise noted.