Crates were added in the Bad Piggies 2.0 "Custom Contraptions" Update.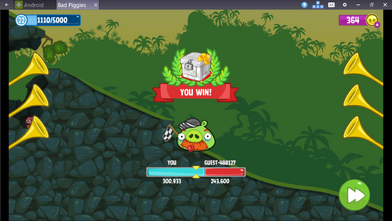 Overview
Crates are essential to obtaining all the custom parts laid out for you. There's many types of the crates.
Obtaining
Crates can be found on three levels every day. There is a rotation schedule for each crate type.
Day of the Week
Cardboard
Plastic
Wooden
Bronze
Metal
Marble
Gold
Sunday
1
0
0
Monday
0
1
0
1
Tuesday
Wednesday
1
0
Thursday
Friday
Saturday
Crates can also be obtained through Cake Race. Every few hours or so, a cardboard crate attached to a TV-shaped balloon will appear on the Bad Piggies main menu. You can collect it by watching an ad.
Function
Crates, when opened, will spill out items depending on their rarity (Each crate has a set amount of loot, and type of loot). They can yield one of the following:
If a part that is yielded from the crate that is duplicate, it will give you some Scrap instead, depending on their rarity: 1 star, 2 stars, 3 stars vehicle parts will give more scrap.  If you close the menu before you collect the scrap from duplicate parts, it won't be collected unless you get some more scrap.  You can do this for multiple crates.  This can result in lots of scrap being collected all at once.
Variants
Crates come in many variants. Depending on their tier, they have more slots for items, and some of the slots have a guaranteed chance to get a part. In ascending order, the crates are:
Cardboard (2 slots: 2 random)
Plastic (3 slots: 3 random)
Wood (3 slots: 1-star part, 2 random)
Bronze (4 slots: two 1-star parts, 2 random)
Metal (4 slots: 2-star part, 1-star part, 2 random)
Marble (5 slots: 1 2-star, 1 1-star, 3 random)
Gold (8 slots: 3-star part, 2-star part, 1 star part, 5 random)
NOTE: GOLD CRATES ARE NOW IMPOSSIBLE TO COLLECT IN HIDDEN LOOT CRATES, IN ORDER TO ACHIEVE IT, YOU NEED TO BUY IT USING Real Life MONEY OR GET TO KING'S CUP LEVEL IN THE CAKE RACE.
Trivia
The crates no longer spawn on random levels due to a glitch but happen rarely (mobile only).
There's a free metal crate in the credits.
The gold crate is the only crate that does not have a lock attached. Instead, it has a keyhole on the front of the box.
Community content is available under
CC-BY-SA
unless otherwise noted.