Level 1-7 is the seventh level in Ground Hog Day and Bad Piggies.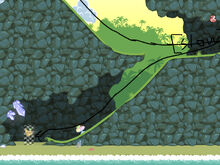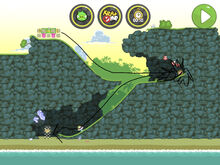 Items Given
1 Freckles
Stars
Get Freckles to a certain destination
Do not break the vehicle
Finish within 10 seconds
Three Stars
The key to this level is to create a vehicle that when started, will roll down the hill, but has enough strength to keep itself from hitting the TNT, and reaching the finish on-time.
Driving Phase
After the vehicle has rolled halfway down the slope, activate the fan, then deactivate it for a split second before re-activating it. The vehicle may flip, but if built correctly shouldn't hit the TNT and break or stay flipped and be rendered unable to move. If timed correctly the vehicle should also be able to roll(slide) down the hill in time to finish. This should give you three stars.
Community content is available under
CC-BY-SA
unless otherwise noted.