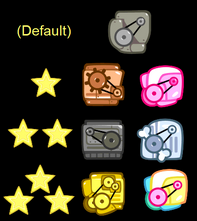 Parts
are a feature in
Bad Piggies
. Parts can be obtained from
crates
, and also from the Scrap Machine.  Parts come in 1-star, 2-star, and 3-star tiers.  Higher tiers cost more scrap from the machine, and are rarer to get in crates.  Some
crates
have a guaranteed chance to get a part, which can be of a given tier.  Additionally, after every part is gathered, the scrap machine will unlock new extra-expensive alien
parts that have special features or abilities.  There are 3 Easter egg parts that can only be collected by tapping on things hidden around the game.
There's a menu that can be opened on any level.  By default, it shows all of the variants for all of the items you have in that level.  If you press the expand button in the bottom right corner, it expands the menu to show all of the parts in-game.
In the parts menu, if you tap on a part you have, the item that it is a part for will change to look like that.  This is so you can customize what your vehicle, the pig, and whatever you build looks like.  When a part is equipped for the first time, a small amount of XP is gained.
In Cake Race
In the Cake Race game mode, the King Pig will feature a random 1, 2, or 3-star part.  If that part is equipped during the race, the player will earn a 15% bonus in score.  It isn't always a part that the player has, and won't be any of the Alien or Easter egg ones.  It can also be the default.  If that item isn't in the level, then it is added.
Parts that affect function
Most parts don't do anything except affect how the item looks visually.  Some parts, however, have a small extra feature.  Some parts also effect the collision box slightly, too.
Easter Eggs
There are 3 Easter Egg parts, as mentioned above. The items you have to tap on to collect them are well hidden in various places around the game. They don't have to be collected in any order, and if they are uncollected, they won't appear on the parts menu and won't be necessary for having all of the parts, since the icon will not appear. They are all collected by tapping on them a few times. The list of Easter Egg parts that have been found are as follows.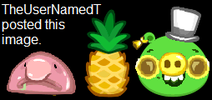 For the page on Easter Eggs, go here.
Alien parts
Some parts have an alien variant.  These cost much more scrap, emit small green or blue particles, and have a special feature or quality added.  For example, the pig's alien variant floats upwards, the small wheel can be powered, and the electric engine is incredibly strong.  When equipped, alien parts play a weird sound effect.  There are 15 of these.  For the full alien parts article, go here.
Parts with similar styles
Some parts have a style that is shared by other parts. This makes it so if you use all similar parts at once, they share a color or design. For example, some parts have a bronze or steampunk theme, and some other parts are bone themed. Using corresponding parts doesn't give you a boost or award. They aren't always in the same tier.
Trivia
Community content is available under
CC-BY-SA
unless otherwise noted.