Rise and Swine

Rise and Swine

Release Date

July 22, 2013

Episode Number

2nd Episode 4th to be released

Levels

45
Rise and Swine is the second episode in Bad Piggies but it was released fourth. It has a total of 45 levels including the bonus levels. Not including the bonus levels, it clocks in at 36.
Story
Ross, Mechanic Pig & Minion Pig are hungry. They tried to make a "sand-cake" but it just tastes like.. y'know... sand. Then, they smelled some cakes from Chef Pig who just passed them,making the piggies go after him by riding a contraption.
Unfortunately, they go too fast, so fast that the contraption crashed on top of Chef Pig and the desserts dropped all over the place. Chef Pig tell them that the desserts belong to King Pig and he'll be furious if he find out that his food is gone, so he orders the piggies get all of them back.
Introduced Items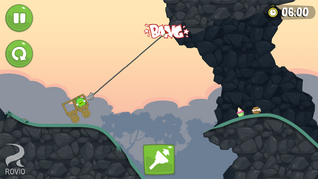 Trivia
This episode has 45 levels
Rise and Swine introduced the second most new 3 items with the exception of Ground Hog Day which was introduced when the game was created.
When you complete a level, you get a Cake given to the King pig minigame.